I am just beginning a new website and blog. My previous blogging has been specifically for my preschool students' families to see what their kids have been doing at school. But now, I wanted to shift to a new style of blog and join the teacher collaboration community, so we'll give this a try. I saw this linky party at theteacherwife.blogspot.com and LOVE the idea, so I thought it would be a great first post.
You are supposed to post your top 5 Must Have Picture Books. Being a preschool teacher, this is incredibly hard to choose just 5. I have my own "library" and am always on the lookout to add more. Thanks to Scholastic Book Club, it's not hard to continually add to the collection. (By the way, I was able to get an ipad with the book club points that I saved for over 10 years - but that is a whole different post topic)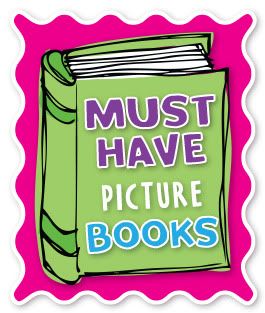 Here are my top 5 + a few more
#1 Where's My Teddy? by Jez Alborough
Being a bear collector, I can't help but love this book and the sequel It's the Bear. It is the adventures of a little boy who loses his teddy bear in the woods, and the great big bear who loses his teddy too. They are just a fun read and are a great addition to our Teddy Bear Unit.
#2 The Little Red Hen illustrated by Lucinda McQueen
I love this traditional tale and the lesson it teaches about being willing to help, and natural consequences. It's a great repetitive book that has a great sequence for "retelling". Though the children never think it's fair that the hen eats the bread by herself, the rest of the year all I have to do is say "then I'll do it myself, said the Little Red Hen" and I instantly have willing helpers.
#3 If You Give a Moose a Muffin by Laura Numeroff
This is probably my favorite of her books and is fun and engaging for the pre-K audience. The sequence of cause and effect events is delightful, and it's a great excuse to make muffins - and of course some jam to go with it.
Delightful rhyming alphabet book (you can't have too many alphabet books) I like how many other objects are pictured on each page that begin with each letter, and the illustrations are great.
#5 Falling for Rapunzel by Leah Wilcox
Such a fun twist on the traditional fairy tale. I laugh every time I read it. Often the humor goes over the heads of the little ones, but they still laugh at the silliness of the story.
#6 The Quiltmaker's Gift by Jeff Brumbeau
A rich king wants a quilt, but the quiltmaker only gives them to people who have nothing. A great book about the power of giving.
# 7 Duck! Rabbit! by Amy Krouse Rosenthal
Love this simple picture book that is a great starting point to talk about different points of view, and seeing things from a different perspective. (I've used this successfully with teenagers too)
I could of could go on and on. Perhaps I'll add another post later on about other books by topic.